L.A. Is My Lady is the album Frank Sinatra recorded in the year 1984. Quincy Jones contributed to the L.A. Is My Lady album as the arranger and producer, and the album is released by Warner Bros. This is the last solo album of Frank Sinatra, since the following albums are the Duet albums.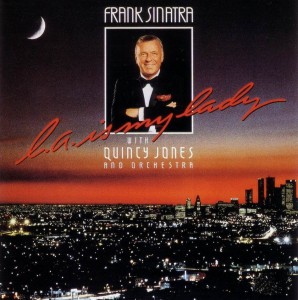 The songs in L.A. Is My Lady album are as following:
1. L.A. Is My lady
2. The Best Of Everything
3. How Do You Keep The Music Playing
4. Teach Me Tonight
5. It's All Right With Me
6. Mack The Knife
7. Until The Real Thing Comes Along
8. Stormy Weather
9. If I Should Lose You
10. A Hundred Years From Today
11. After You've Gone
Some of the songs are really nice in L.A. Is My Lady album.
LA Is my Lady: Nice performance, definitely worth listening. But i would go for the 1985 Japan concert version to get the most out of the song.
The Best of Everything: Could sound a lot better if it was recorded 15 years ago, but still very nice.
How Do You Keep The Music Playing: In my opinion, the best song in the album, and this is the best version of this song as well. It couldn't be any better at all, and this song itself is enough to make the album worth listening. Tony Bennett sang this song as well but his version is not as good as Frank's version, as expected.
Mack The Knife: Good song, but not an album song i think, this is a performance song. The album version is hardly bearable, but the 1985 Japan Concert version is simply fascinating. If you will listen to this song, again go for the Japan performance, like L.A. Is My Lady.
Stormy Weather: Sinatra recorded this song three times in his career, this version being the last one. I can't decide whether Capitol version or this one is better, all are beautiful. Stormy Weather is a very nice song both music and lyricswise.
I don't know why but when it comes to studio recordings, some Sinatra performances are really bad. But few years later, in a concert, Frank Sinatra sings the same song much more better. L.A. Is My Lady is a good example of this.
You can listen to the album version of How Do You Keep The Music Playing in the L.A. Is My Lady album from the video below.