"See the singer guy? One day I'll be sitting where he's sitting." That is what Frank Sinatra told his wife Nancy, when they went to see Tommy Dorsey's band in 1937.
In my post about Frank Sinatra and Harry James I had mentioned that in Chicago, Frank Sinatra was offered to be the vocal of Tommy Dorsey's band, and left the band of Harry James in January 1940. But unlike the times he worked with Harry James, now he wasn't the only vocal in the band. There were four other people, also known as "Pied Pipers": Chucky Lowry, Billy Wilson, John Huddleston and Jo Stafford. In February 1, they recorded "The Sky Fell Down" and "Too Romantic".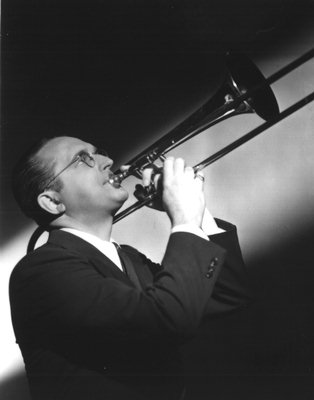 "I was almost entirely unfamiliar with him. In fact I never laid eyes on him until he actually walked on stage for the first time. We were sitting on the stage when Dorsey introduced him. And he came on and sang "Stardust" and it was quite an experience. You knew after eight bars that you were hearing something just absolutely new and unique" says Jo Stafford about Frank Sinatra.
It is widely accepted that Frank Sinatra learned a lot from Tommy Dorsey, especially the technique of breathing. Frank was watching Tommy Dorsey playing the trombone and trying to figure out the way he was breathing. Later he discovered that Tommy had a sneak pinhole in the corner of his mouth which he was covering with his trombone and decided to use this technique while singing. He ran and swam a lot to improve his breathing and finally was able to make it. He could take a breath without breaking the note.
Another thing Sinatra learned from Tommy Dorsey was focusing on the words. Dorsey told Frank "All that matters to Bing Crosby is the words, and that's the only thing that should matter to you." Maybe this is why he sings the "saloon songs" perfectly, like "Angel Eyes" or "One For My Baby".
The first real hit of Frank Sinatra with Tommy Dorsey orchestra was "I'll never smile again", on 23 May 1940. This was also the first recording Frank did with Pied Pipers. In July the song hit No 1 on the charts and stayed there for 12 weeks. He recorded this song in 1959 and 1965 as well, in his albums "When No One Cares" and "A Man and His Music". On January 1941 they recorded 2 very nice songs, "Stardust" and "Oh Look at Me Now".
It was the year 1941 when Sinatra became a lot more and more popular. Girls were crazy about him and people were coming to performances to see Frank Sinatra now. He wasn't just a vocal of Tommy Dorsey anymore, he was Frank Sinatra. And he was quite aware of this fact too. Sooner or later he was going to quit, just like the former vocal of the band did. Those years, it was the band leaders that were popular and known in the bands, and though he was very popular and making $400 a week, still he was in the shadow of Tommy and this was not for him since he had to achieve more. Being in a band was only a step on the way of being the greatest ever.
In January 1942, Sinatra made his first step and recorded these songs with an orchestra conducted by Axel Stordahl, no Tommy Dorsey this time.
Night and Day
The Lamp Lighters Serenade
The Song Is You
The Night We Called A Day
Frank Sinatra: "When I went to leave, Tommy made it impossible. I remember that it was in the month of September, in Washington, Dc. I went into the dressing room and told Tommy that I wanted to leave the orchestra and he kind of smiled. What for? He said. You know you are doing great with the band we got a lot of arrangements for you. I said I understand that but I justto go out on my own. He said, I don't think so. I said okay, but I'm going to leave. He said, you've got a contract. I said, I had a contract with Harry but Harry took the contract and tore it up and wished me luck. And I added, I'll give you one year's notice. This time next year I'm leaving."
In 1942, Frank wanted to leave the band again but still the same obstacle, the contract Sinatra later named as "a ratty piece of paper." In the contract, it was stated that if Frank Sinatra left the band, he would pay %43 of all the money he would earn throughout his career, to Tommy Dorsey and his agent. Dorsey first didn't want to let Frank go. So Frank hired few lawyers and asked some friends to help him about this issue. Harry Jaffe threatened Tommy Dorsey about not broadcasting him on NBC.  After a while Tommy was persuaded and he accepted to take $75000.
Frank Sinatra: "Anyhow, that's how I got out of Dorsey contract. No gangster called anyone. Sonofabitch, I've been with that thing for so many years.."
But this is not what Tommy Dorsey said, according to the book "Sinatra: The Life". "Three guys from New York City by way of Boston and New Jersey approached me and said they would like to buy Sinatra's contract. I said "Like hell you will". And they pulled out a gun and said, "You wanna sign the contract?" And I did." And before Tommy Dorsey died in 1956, he again said "I was visited by Willie Moretti and a couple of his boys. Willie fingered a gun and told me he was glad to hear that I was letting Frank out of my deal. I took the hint."
In August 1943, Tommy Dorsey gave Sinatra his best wishes by saying "I hope you fall on your ass!" (not on the radio), and Frank finally owned himself.

When I think of Frank Sinatra's years with Tommy Dorsey, I say thank god he was in that band. His voice was simply fascinating and he performed many nice songs. We can't name the months of Sinatra with Harry James as rich, since they didn't release many songs and we don't have many recorded radio broadcasts survived till now. But Frank Sinatra and Tommy Dorsey recorded lots of beautiful songs like "The Sky Fell Down, Too Romantic, I'll Be Seeing You, Say It, Polka Dots and Moonbeams, Fools Rush In, April Played the Fiddle, Imagination, I'll Never Smile Again, Stardust, Oh Look At Me Now, Without a Song, I Think of You, The Song Is You" and many others.
If you would like to listen more songs of Frank Sinatra with Tommy Dorsey, you should definitely check "Frank Sinatra Tommy Dorsey Complete", which consists of 5 CD's. Lots of beautiful songs there…